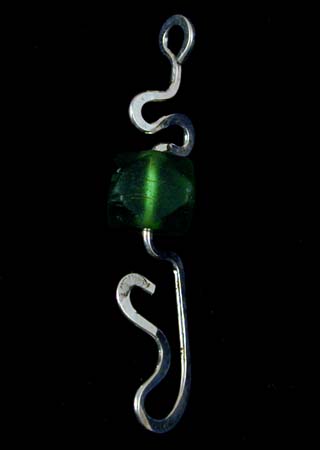 Silver & Bead Pendants
Made from Triple 9 Fine Silver -- 99.9% pure. Hand worked with hammer and micro anvil by General Xxaxx his-self.

By virtue of being hand-crafted each pendant is unique. That means the pendant you receive will be a close but not exact match of the one pictured. If you have a problem with this please call (530) 272-0180 and order by phone. That way we can indicate whether or not this exact pendant is available.

In addition, many of the beads used in the production of these fine pendants are antique or ancient. This means when they are gone... they are gone. This means each pendant and pendant style is subject to prior sale. In the event a particular bead is out of stock, we may or may not be able to provide a close match. If this is a problem please call so that we may discuss availability and options.
(Note: ancient is used to refer to beads which we have reason to believe are anywhere from 600 years to 3000 years old, or more. While the collectible value of the beads do enter into our pricing, the actual pricing of pendants is determined by the creative and artistic content of the pendant, not the collector's value for the beads included.)